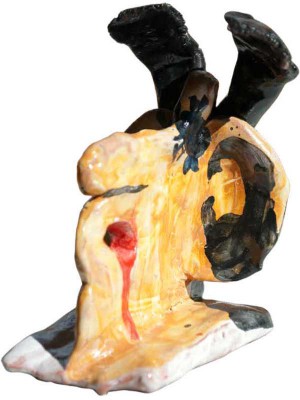 Haperende Mens is bringing disturbing art and music. This year we will focus on the overwhelming moments in which we seem to lose control or can't control life at all. Think for example of moments when 'nature' within us (sex, chemistry, hormones, death, illness) or outside us (power of nature, war….) is taking over. Then thinking and understanding will lose its value and we hit upon the boundaries of life.
With the Artists and musicians of the Haperende Mens we will of our goal is to experience this kind of moments. They present disturbing, overwhelming and confrontational art and music.
This year Haperende Mens collaborates with Melkweg, Arti et Amicitiae.
In 2013 the exhibition 'collages van een haperende mens' with works of Johan Grimonprez, Martha Colburn, Dick Verdult and Anne-Mie van Kerckhoven, curated by Katja Vercouteren was very well received by press and public. (more…)